The Parish of Boxmoor consists of the South-West corner of the town of Hemel Hempstead and includes the neighbourhoods of Chaulden, Felden, Two Waters, Cornerhall, Hammerfield, part of the Marlowes, Jarman's Park, and, of course, Boxmoor Village. Approximately 18,000 people live or work within the Parish. There are 8 Schools in the Parish – all of which have links to the Church.
We aim, as a Christian Community, to:
Reach out in love and service to the people of our Parish

Support and accompany those in need, pain, or grief

Welcome, teach, and nurture newcomers of all ages

Care for one another and build each other up in faith

Worship God with beauty, dignity, and warmth
Mission Action Plan
As part of the Diocese of St Albans we have been inspired by the initiative Living God's Love which aims to enable people and Churches to: Go deeper into God; Make new disciples; Transform communities. Accordingly we have set ourselves the following goals for 2019 to help us live God's love in our Parish:
For the Ministry Team to be active in every School in the Parish

Hold bi-monthly Bible Studies or discussion groups

Open the doors of St John's Church every day – manned or unmanned

Facilitate transport to services where the need arises

Support families following Pastoral Offices

Publicise that we are a Church that is alive and kicking
Our Churches
All three offer a warm welcome and are distinctive in their style of worship. We hope that you will find a spiritual home here.
St John the Evangelist
The Parish Church of St John the Evangelist is the largest and oldest of our three churches and is attractively situated off Blackbirds Moor. The church is open every day with services held daily to which anyone may join.
Dedicated in its present form on Easter Tuesday, 1874, the church continues – 145 years later – to be well-cared for and used by the community as a vibrant centre for Christian worship and fellowship. Our congregations include those who have been life-long members of St John's as well as those who have recently come to faith and those who are exploring Christianity.
St John's is regarded as the Civic Church of Hemel Hempstead with a good musical tradition, formal yet approachable worship, and a desire to engage with all generations. The Church is in constant demand for weddings, funerals, and baptisms and as a venue for concerts. Please see St John's Service schedule for more info.
Sunday Services
08.00am BCP Holy Communion
10.00am Parish Eucharist 
Weekday Services
10.00am Holy Communion (Every Wednesday)
St Francis of Assisi, Hammerfield
St Francis' Church in Hammerfield was built in the Italianate style in 1914 and is Anglo-Catholic in tradition. A small but friendly congregation are on hand to welcome you following an exodus to join the Ordinariate within the Roman Catholic Church. St Francis enjoys a pastoral relationship with the Bishop of Richborough whilst remaining part of our inclusive Parish. Please see St Francis Service schedule for more info.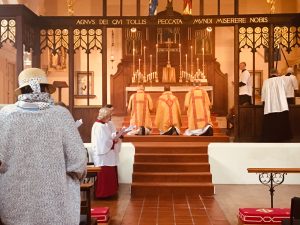 Sunday Services
10.00am Sung Mass (Every Sunday) Traditional language Mass with incense, hymns, and homily – followed by coffee.
6.30pm Evensong and Benediction (4th Sunday of the Month)
Weekday Services
5.00pm BCP Evening Prayer (Every Wednesday)
8.00pm Feast Day Mass (as announced on Newsletter)
St Stephen's, Chaulden
St Stephen's Church in Chaulden was built in 1959 and was brought into the Parish in the mid 1990's. Worship is traditional and well prepared yet relaxed. The later service time, coupled with comfortable chairs and a shorter service, means it tends to serve our older members. Please see St Stephen's Service schedule for more info.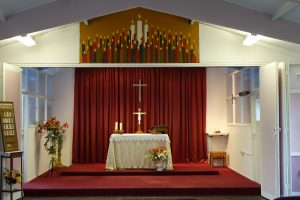 Sunday Services
Weeks 1, 2 & 3: 11.30am Morning Worship A service of the Word with Hymns and Address, followed by coffee
Week 4: 11.30am Holy Communion (Common Worship) Holy Communion with Hymns and Address, followed by coffee